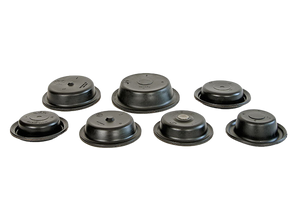 One of the most important component in the air brake system of commercial vehicles is textile inserted rubber diaphragms.
Our diaphragms are preferred among the major OEMs throughout the world, and they provide driving safety of more than 15 million heavy vehicle's brake system.
Our products are tested in independent laboratories against the long and hard road conditions by more than 2 million cycles, and approved.
With its 7 Million pieces annual production capacity, Tekno Kauçuk is #1 in Europe and #3 in the world.
Our target is to be the world leader in 2020. With its unsuccessfully imitated quality by its competitors,Tekno Kauçuk marked diaphragms are the right choice.